Problems of a Sexual Nature
Sexual problems such as loss of sex drive or problems with erections are incredibly common. People are often embarrassed and find it difficult to ask for help. There are many effective treatments available for these problems.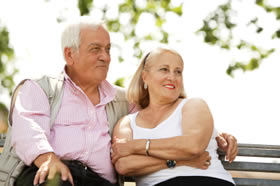 This is a topic which both men and women find difficult to discuss. Yet problems with sexual function do affect a great many people. Also, perhaps unsurprisingly, these problems affect more people as we get older.
Erectile dysfunction or "impotence" is the repeated inability to get or keep an erection that is sufficiently firm to achieve the kind of sex desired by a man and his partner. It is estimated that there are 2.3 million men suffering from erectile dysfunction in the UK. 50% of men aged 40 to 70 will experience this problem in some form. But despite its prevalence it is estimated that only 1 in 10 men seek treatment.
The causes of erectile dysfunction are often multi-factorial with both physical and psychological factors involved and some medical investigations may be required. There are numerous treatments available for this distressing condition, but patients often require a more holistic approach than just taking tablets alone.
Erectile problems can also be caused by a condition affecting the erect penis to bend (Peyronie's disease). This condition is also remarkably common amongst men. If there is a significant bend in the penis sexual intercourse can be painful or impossible. There are effective surgical treatments which are readily available and helpful for this condition.
Sometimes problems relate simply to a loss of interest or desire for sex (loss of libido). This can be related to a fall in the production of the male sex hormone, Testosterone. The hormone levels do gradually decline as men become older (sometimes known as the andropause or male menopause), but they do not fall suddenly in the same way that women are affected with the menopause. This condition is better described as Testosterone deficiency syndrome (TDS) and can be treated in some cases, very effectively, using male hormone replacement therapy.
We believe that a global assessment of men's health is important for dealing with problems of a sexual nature, allowing us to provide the most appropriate and effective treatment for each individual patient.
This e-mail address is being protected from spam bots, you need JavaScript enabled to view it